OVERVIEW
Click on the links below to view specific page sections: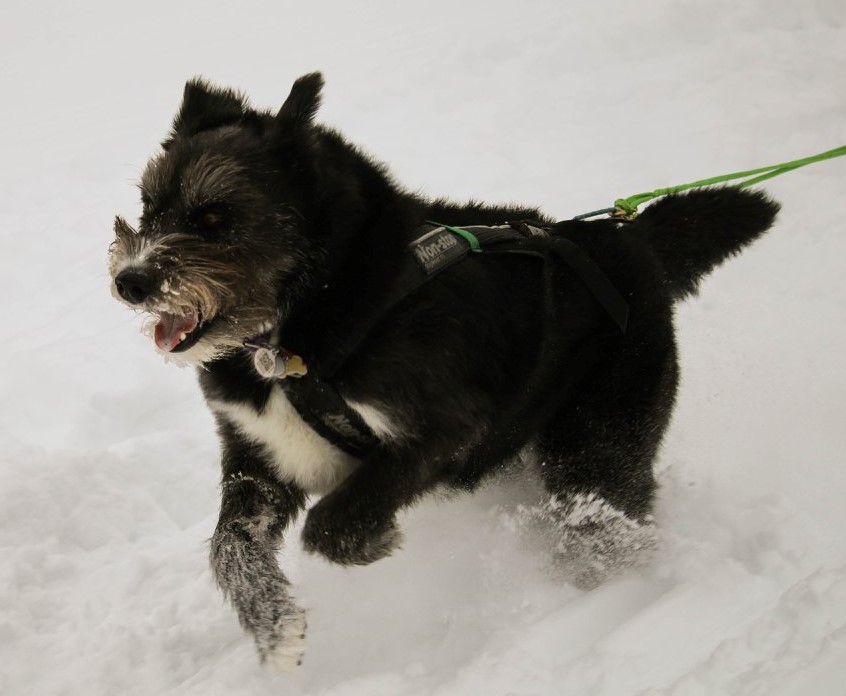 Elsa Sutton doing one of her favorite things, running in the snow. The photo is courtesy of an action photographer extraordinaire, Amy Fawkes. She is a fellow dog lover and musher with two Huskies (one Alaskan and one Siberian).
---
---
Dog Days: Camp
Dogs at Dusk: After-School Programs
---
Youth Programs
Paws 4 Kids 4 Paws has a variety of ways for youth to participate in programs, learn about dogs, develop skills and knowledge, and give back to their community. Youth will learn how to assess dog temperament and behavior and (later) train dogs for different roles, such as family pet, service animal, animal therapy, sports, working dogs... Some activities will focus on background knowledge, which will be delivered in different formats, depending on the audience. Skills-based activities will include interactive sessions with dog handlers / trainers.
Many individual programs stand alone and serve to get started, while others are steppingstones that need to be completed in a sequence to build more advanced knowledge and skills.
Trainer/Handler Programs
In addition, we run programs to develop the trainers / handlers who will be involved. The purpose of such programs will be to educate handlers on how to work with "square peg" kids, qualify handlers to lead programs, and improve how the handlers serve their own communities.
Informational Programs
Paws 4 Kids 4 Paws also offers informational sessions about the educational programs to other organizations to help build awareness, interest, volunteers, participating students, donors, and sponsorship. We will embed some programs into other organization's events as an extra activity, such as Crafting For Canines. Such organizations include schools, educational groups, parent groups, youth groups, and companies, and other related nonprofits. We can adjust the sessions to your constraints and interests.
---
---
We work with shelters and rescues to help provide experiences for youth that will also enrich the lives of the animals. Such activities include:
---
As youth complete programs, they will be able to earn badges to recognize the knowledge and skills they have gained. These badges will grow over time and some will build on other ones (stack). Badges will include:
GETTING CREDENTIALED FOR PROGRAMS
We intend to grow to many geographic areas carefully, maintain the quality of delivery, and provide positive experiences for all involved. As a result, handlers will be registered and authorized to deliver our programs.
Handlers who want to deliver our programs need to complete some specific learning and build experience with delivering our programs. Delivering our programs requires an understanding of and experience with dog behavior / training, effectively and safely engaging youth, how children learn, working with different temperaments and needs, as well as facilitation and event management skills.
This registration is in development and will be a tiered credentialing that will include (but not be limited to):
Applying and submitting your reasons for interest and your philosophy and credentials in working dogs and kids, including a portfolio and references.
Completing our Handlers Training.
Co-delivering Paws 4 Kids 4 Paws programs with another registered handler.
Note that there likely will be fees for registration to cover our costs and support program development. There also will be on-going reporting and other requirements to maintain registration.
We are working on having our credentialing activities authorized for continuing education (CE) credits for dog training type certifications. If you have a specific CE documentation need, please let us know.
I'D LIKE TO JOIN THE ADVENTURE...
Support our programs and organization:
LICENSING OUR PROGRAMS
We are working on programs for handlers and interested organizations to license our programs for their use in approved settings. Stay Tuned.
We are also open to leveraging quality content that conforms to our criteria and values that has been developed by others. We will license such content for incorporation into our program portfolio to the benefit of all parties. If you have content that you want us to consider, please contact us.
HOSTING AN EVENT
If you have a venue and would like us to hold an event there or hold one of our events within your larger event, reach out to us here.
KENNEL CLUB
Youth who participate in our programs will have the opportunity to connect with other participants in a community just for them. (More to Come.)
PAST ADVENTURES
Elmhurst Public Library - Crafting for Canines June 2022
Crafting for Canines - Bentley's Pet Stuff, Elmhurst IL - July 2019