Through Tricia's therapy dog visits, she sees how interactions with dogs help people and improve their mood and other interactions. We started looking into what knowledge there was about the needs of kids and how animals help them. Arthur has signs that appear to be undiagnosed ADHD. Since Henry is ADHD, she knows those struggles. So, we started looking into ADHD further. We learned some startling statistics… Did you know:
35% of kids with ADHD will drop out of school?
45% will get suspended and they are more likely to bully others or be bullied.
They are more likely to fail in many academic ways.
Here's something that shocked us more though, people with ADHD are 3 times more likely to be DEAD by the age of 45. DEAD. "Square Peg" kids struggle for a lot of reasons, ADHD is only one, and many of those who struggle would benefit from our programs.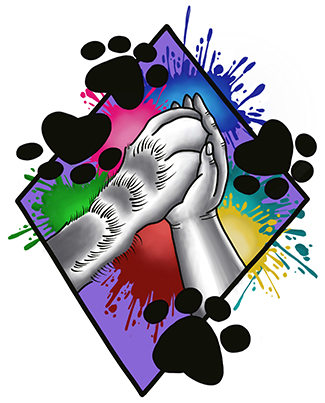 Art & Graphics courtesy of fellow dog lovers:
Artwork - Renee Kolojay
Tattoo artist at Sink or Swim Tattoo in St. Charles, IL
Reneestattoos@gmail.com