A

Really Expensive Treat!
Funny story … at least funny afterwards, fortunately, about Heartworm prevention … Elsa helped herself to a full pack of Heartgard. I thought it was well hidden. She is resourceful and likely was hungry and bored. She dug through a large drawer full of things, passed other bags of dog treats and goodies, selecting a brand new pack. Elsa chewed open the cardboard pack and meticulously dug out each of the six chews. Apparently, she enjoyed herself!
I contacted the vet. He said to monitor, but the total dose from six chews is actually low for a dog her size, not likely enough to overdose. She was fine. I have now found a new place to store the medication that is well away from her, much higher, inaccessible (I hope!) … As the vet said, she "helped herself to a very expensive treat!"
Overdose – Uncommon but Possible
It was all fine for Elsa that time, but some dogs are more sensitive to the heartworm medicine than others. The medicine is made to taste really good so dogs think it is a treat and will try to get to it. Preventing overdose is of course the preferred approach. If you fear your dog may have gotten extra doses, monitor for signs and contact your vet. (1)
The medicine is also dangerous for humans, especially children, so for the sake of your pets and your kids, keep your heartworm medicine stored safely and securely, well-hidden / inaccessible.
April Is Heartworm Awareness Month
Sure, you may think you know enough about it but maybe there is more… . It a serious risk that can be managed with monthly preventative treatments. The medication doesn't prevent infection completely, rather it prevents the disease from taking hold by killing off the larvae before they mature and move into the heart / pulmonary arteries where they cause severe damage and require expensive treatment. The preventatives also help prevent other types of intestinal parasites, such as roundworms and hookworms. (Check the medication you choose for what it addresses.)
Facts About Heartworm
Heartworm has been studies for decades. Did you know there even is a society dedicated to the disease?  The American Heartworm Society (2), established in 1974, has its ultimate goal "to promote effective procedures for the diagnosis, treatment and prevention of heartworm disease." The Society does a lot and most importantly publishes the:
Current Guidelines for Canine and Feline Prevention, Diagnosis and Treatment of Heartworm Disease  (3)
They also have a wealth of resources – educational, infographics… so check them out! (4)
Incidence of Heartworm
Heartworm occurs throughout the U.S. (actually around the world). It is more common in warm, wet areas of the country where the mosquitoes who transmit it are prevalent year-round. In northern climates where mosquitoes die off for a few months, the risk of infection reduces during winter.  Weather varies and there can be warm winters with less die off too, so be careful!
The American Heartworm Society provides an updated map for the U.S. Every three years so check out the most recent one here: Incidence Map – 2016 (5)
Life Cycle of Heartworm
Mosquitoes are the vectors for transmission and they carry larvae that infect the animal. Once in an animal, the larvae develop and it can take up to 6 months before testing positive. (4, 6) Prevention works through some of the heartworm's life cycle, but after the heartworms become adults, you have to treat. (7)
---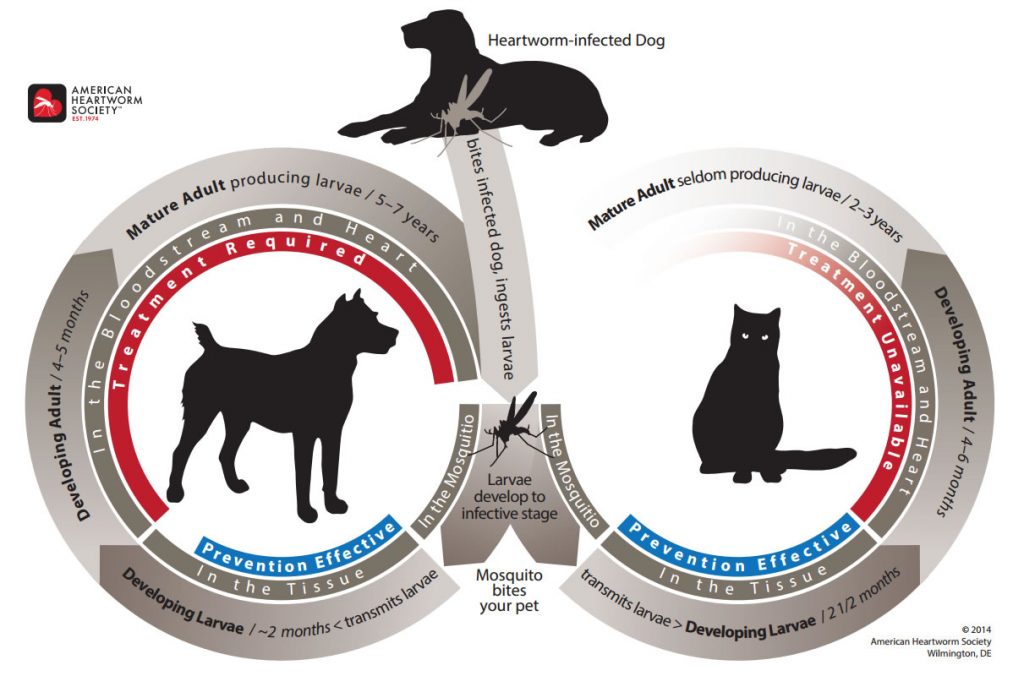 ---
Statistics About Heartworm Infections
There is a lot of information out there on heartworm and you might think you already know all about it.  Did you know that cats, as well as foxes, wolves, and coyotes can get heartworm? In an area like mine where coyotes have made a big comeback, they can be carriers that help get your local mosquitoes infected.
Here are a some factoids I found compelling from Health Research Funding (HRF) (8):
"1. The average lifespan of heartworms in untreated pets is 5-7 years in dogs and 2-3 years in cats."
"2. The mosquito is the only known vector for transmitting heartworm."
"3. Virtually 100% of dogs exposed to infectious heartworm larvae will develop an active infection."
"4. Heartworm indicators are found in the blood of 80%-90% of dogs."
"8. Research suggests that heartworm disease could be virtually eradicated using available preventives."
"10. Heartworm disease has been reported in all 50 states."
What To Do? Test & Prevent!
If you love your dog, take care of it. I understand that the medication can get expensive, especially if you have multiple dogs but prevention and testing is a fraction of the cost of treatment and your pet will be healthier, happier, live longer … Weigh the costs! (9) It can cost as much as 15x more to treat than to prevent (6) so why risk it?
When To Test
Initially, you need to test before you start a preventative treatment medication and again in 6 months. After that, you test annually. Even if you are giving the preventative year-round, you should keep testing annually to make sure the prevention is working. They are very effective but not necessarily 100%!  Many vets wait until April to test in areas where people aren't using the medication year-round.
I like this infographic on when to test, especially because of the answer after "Got a Dog?" –> "No" …  (10)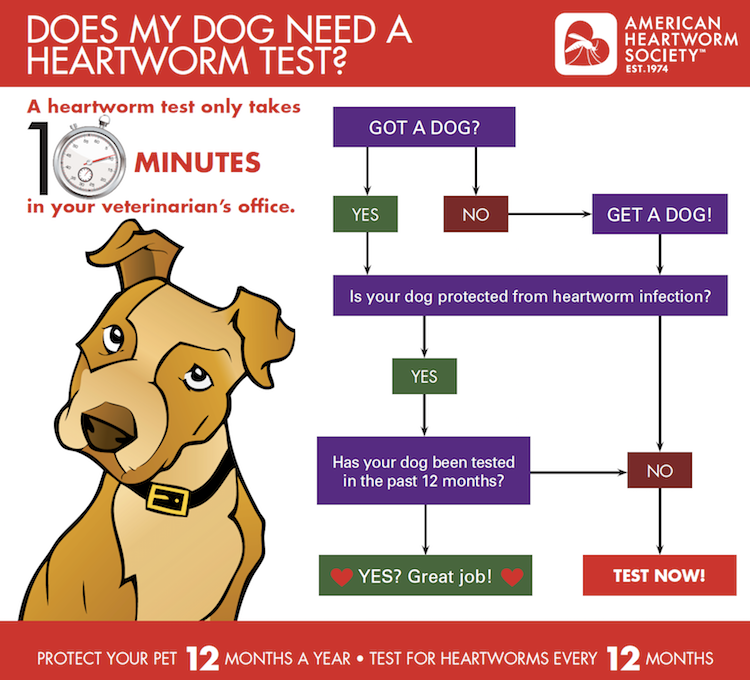 Prevention = Monthly Medications
Heartworm preventative medications work retroactively because they kill the larvae before they become adults when they cause major damage. It takes time, though, to develop and be detectable so the damage can be great.  That is why most experts recommend monthly year-round dosing of the preventative medication.
There are choices now for prevention. This chart can help choose the medication you want to use: Comparison Chart  (11)
In northern climates, some choose to skip a few months during the winter when there aren't likely to be mosquitoes to save some money. You need to dose at least one month after the last mosquito and start back up as soon as they reappear. So unless you are really sure there are no mosquitoes, it is safer to keep dosing.
Noticeable Side Effects
Most dogs are fine and have no reaction or very limited side effects like being a little lethargic the day of the dose. Like people, dogs vary in how they react to medicines though, so you should monitor your dog when you give the preventative. I know this from personal experience:
One of my mushing friends has a husky that gets extra reactive from Heartgard, possibly from an agitation side effect. For a couple days after she takes her medicine, be extra careful of her tendency to bite!
Side note – She actually has several huskies, as do many mushers. Only one seems to react badly to the medicine.
Choose your preventative based on your pet and its reaction to the medication. Most dogs are fine with the most common medication Heartgard, though some have reactions.
"Noticeable side effects in dogs may include: dilated pupils, drunken gait, tremors, and loss of body weight. In cats, Heartgard may cause loss of appetite, agitation, drunken gait, dilated pupils, tremors, and disorientation. However, again, these side effects are extremely rare and typically only occur at very high doses for skin mites that are given to susceptible breeds such as Collies or Shetland sheepdogs." (12)
Sources:
(All accessed 4/4/2018)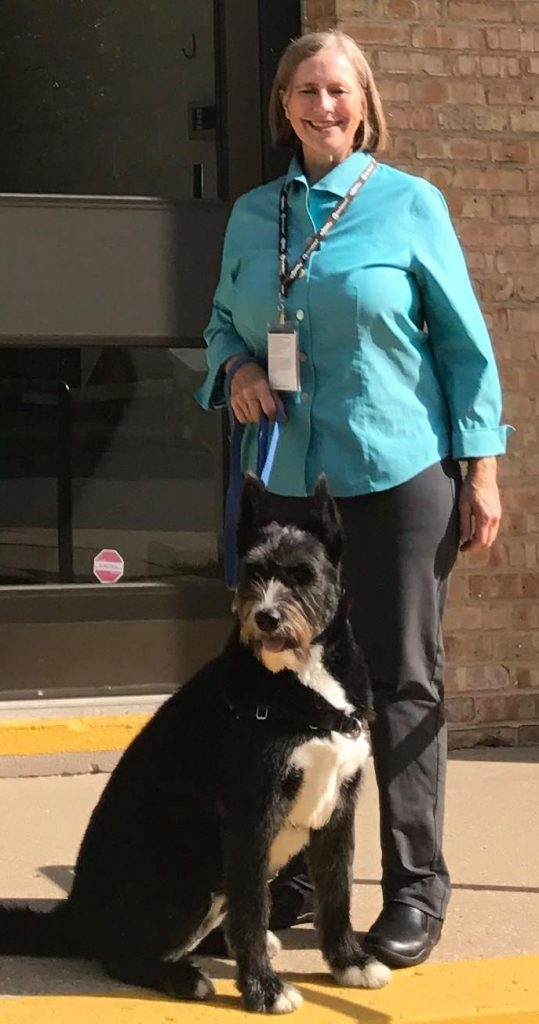 Tricia Sutton is one of the co-founders of Paws for Kids for Paws. Despite complaints from her spouse, she spends a lot of time with her dog Elsa, who also is one of the board members.