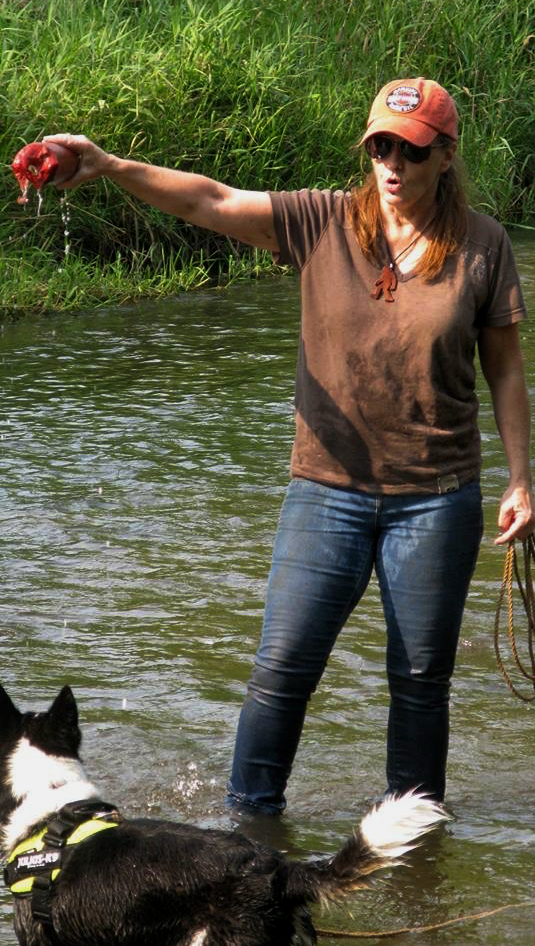 Mary is a passionate, creative, and empathic person who strives to positively impact the lives around her. She loves art, music, nature, and is also really into particle physics!
As someone who struggled with illness from the age of 5, Mary always found comfort in animals. When she was young, she saw the world famous dog London, a German Shepherd who could follow intricate commands, such as opening a file cabinet and picking out a specific file, or retrieving any item, like an ashtray, that an audience member asked for. Ever since, Mary has been intrigued by dog training. At a mere 11 years old, she had saved up enough money to buy her own German Shepherd named Lanz and start her dog training journey.
Now, Mary lives in Illinois with two Karelian Bear Dogs, Kendi and Simu'k (Simi for short). With over 50 years of dog training experience, Mary is a Canine Behavioral Intervention Specialist for her business Alpha Girl K9, and Simi is her assistant trainer! When Mary walks into the room, her body language and facial expressions can instantly calm a dog. She's been called the Dog Whisperer and has even been asked if she's magical before. It's no wonder she's our #1 Dog Behavior Advisor.
Mary has had a lot of interesting experiences in her lifetime. She has experience creating and implementing curriculum, training instructors and science interpreters, working with at-risk youth, coordinating events, and much more. She began working with kids in 1991 as a Kane County Master Gardener, which is coordinated through the University of Illinois. Then she worked as a Nationally Certified Science Interpreter at the Fermilab National Accelerator Laboratory/Education Division, where she was able to interpret complex information to people of all ages, personalities, and education levels. She also performed cryogenics shows through Fermilab, so you may know her as Mrs. Freeze! In addition, she was recruited by the executive director of SciTech Hands On Museum, where she became a Science Instructor/Master Science Coach and also performed physics shows by blowing up things like watermelons. (That explains one of her nicknames: KaBoom!) Through SciTech, she created and ran summer camps, such as their most popular camp "Totally Ballistic." She also helped lead after school science programs for at-risk youth, and even created a unit about the science of dogs, which eventually morphed into learning about dog behavior, training, and care. Through this program, Mary saw firsthand just how much dogs can positively impact kids' lives.
Mary met Paws 4 Kids 4 Paws co-founder Tricia Sutton through a local dog mushing group, where Tricia introduced her to P4K4P's mission of helping "square peg" kids with dogs. It must have been fate, since Mary had already been doing the same thing with her science programs. Mary believes that P4K4P is much more than just kids and dogs. P4K4P teaches kids to listen, work hard, and become confident leaders. After all, if you're going to tell a dog to "heel," you've got to say it like you mean it!